22 June 2018
If you were fortunate enough to be wondering the streets of London yesterday you may have noticed an unusual, and strikingly beautiful, sight: fleets of 'Flower Messengers' strolling around the city and giving flowers to passersby and commuters, breaking its urban visage with an infusion of natural vibrancy. They are the creation of legendary Japanese flower artist Azuma Makoto, and they are walking to celebrate the opening of Japan House London.
Japan House London opened its doors for the first time on 22 June, creating a 'new cultural home of Japan in London'. It follows on from the creation of two other Japan Houses: Japan House Los Angeles in the USA and Japan House São Paulo in Brazil – the opening of the latter being the first time Makoto's Flower Messenger concept was unveiled to the public. 
Azuma Makoto, whose floral artistry is at once a celebration of nature in all its brilliance and Japanese culture itself, is the perfect choice for the event, and we were thrilled to collaborate with him on it. Makoto is a living example of the London Flower School's ethos – someone who embodies artistry with flowers – and a fantastic example to our students of the type of innovation that is possible using organic materials.

Azuma Makoto arrived at the London Flower School on 18 June. The school was brimming with flowers, spilling out into every area, and Makoto and his team were eager to work with them. He began by demonstrating the arrangements that would be used in the basket of each Flower Messenger. These displays speak to Makoto's own relation with flowers, and the themes that have informed his wider body of work: the ephemeral nature of the blooms and blossoms, the endless dance of life and death, the disruption of urban landscapes with organic matter. 
Behind the scenes: Azuma Makoto and London Flower School students working on the creation of the flower baskets for Makoto's Flower Messenger project. Video produced by Japan House London.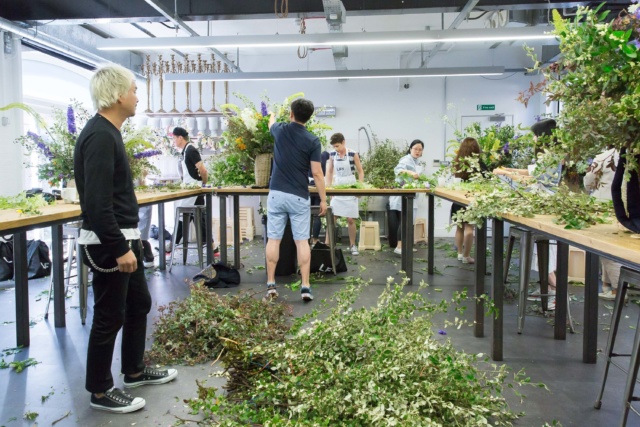 On June 20, the staff and students at London Flower School helped Azuma Makoto with his installation at Japan House London. The theme of that installation connects with Makoto's previous work, in the style of a grand botanical sculpture. The following day, a select group was invited to a private opening of the house, and the installation received a great reception.
The final part of his project would only come by the end of the week: Flower Messenger day. More than 20 volunteers, recruited from our student body, friends of our school and Japan House London, took to the road, marching along Kensington High Street, and navigated a route that took them through Hyde Park, Kensington's cultural institutions such as the Serpentine Gallery and the Design Museum, the Royal Albert Hall and into South Kensington. Dressed in beautiful denim uniforms and carrying baskets inspired by the those used by Edo period flower sellers in Japan, they were hard to miss as they enlivened the city streets, adding a splash of natural colour to London whilst giving away their flowers and an invitation to the opening of Japan House London.
The experience of working on the Japan House London opening festivities has been both fantastic and memorable. London Flower School is always eager to introduce its students to artists who can share their vision for floristry, and we extend our gratitude to Azuma Makoto for inviting us to collaborate with him on this project. 
Flower Messengers Video, by Japan House London.
Azuma Makoto's installation at Japan House London will be on display until 24 June 2018. For more information on his work, click here.
To learn more about Japan House London, their programme and news, click here.